Memia 2020.06: Covid-19 🤧 information avalanche, debt deluge & inequality down(er) // *Even more* catastrophic risks 🥳 // I really wanna zigazig-ah
What to do with $12.1Bn on a rainy day?
Hi / Kia ora
Ben Reid here with the latest Memia roundup of strategy, tech and innovation around the world, particularly my corner of it. Quite a lot happening, it turns out.
The most clicked link in the last issue (~7% of opens) was the animals posing for album covers. Still grinning at that one.
From now on I'm aiming to put these newsletters out weekly, there's so much going on. As always, if you enjoy these posts, please consider forwarding to a colleague or friend to read while self-isolating. Or share using the handy button below. 🤗
Covid-19: information avalanche
Covid-19 coronavirus is just about the only topic on everyone's mind these days. There has been so much written on the subject in such a short time, it's hard not to get buried by the avalanche. Here are a few highlights that I have found helpful in the last week:
And if you want *even more*…my friend Kaila Colbin and her team at Boma are hosting a free virtual global summit on COVID-19 with 20+ hours of content and speakers/sessions from 10 countries, register for the event on 23 March.
Covid-19 - debt deluge
In just a short space of two months, the world's economy has descended into what is already predicted to be a worse recession than the 2008 Global Financial Crisis. Stockmarkets worldwide have tumbled and whole sectors have currently ground to a standstill - particularly tourism and travel in Aotearoa. (My anecdotal observation last week was that pretty much every business in every sector (other than government and health…) have put the handbrake on spending in the face of huge current uncertainty.)
There are three broad economic scenarios from here:
Quick recovery (unlikely)

A sharp shock to the economy lasting for the whole of 2020 (still possible)

A sustained global downturn (looking more likely with every day)
Yesterday New Zealand Finance Minister Grant Robertson announced a NZ$12.1 billion economic rescue package aiming to provide relief to citizens and businesses, funded largely from increased government debt.
"This is the rainy day that we have been planning for"

- NZ Finance Minister Grant Robertson
Other governments and central banks around the world are racing to provide similar debt-funded economic stimulus packages to curb the effects of the simultaneous global meltdown.
Indian economist Jayati Ghosh writes about The Covid-19 Debt Deluge - and what can be done afterwards:
"These [massive debt] problems cannot be contained by policies adopted in any one country. More than ever, the global community needs leadership to address the immediate effects of the coronavirus pandemic and its economic fallout. In addition to coordinated fiscal spending across countries, we urgently need to tackle the debt crisis that will soon unfold. It is time to start thinking about debt resolution and restructuring."
She invokes the London debt agreement of 1953, which dramatically altered economic conditions for Germany, at that time a major debtor, and enabled it to recover to prosperity over the next few decades. Nearly 70 years later, in these exponentially more complex and interconnected times:
"…[a] forward-thinking, coordinated debt-resolution strategy is essential […] if we are collectively to survive not just the normal depredations of global markets, but also the existential threats posed by pandemics and climate change."
Covid-19 - Inequality down(er)?
Back in Memia 2020.01 I touched on economist Thomas Piketty's seminal book Capital in the 21st Century (incidentally, last year translated into a highly watchable feature length documentary by NZ filmmaker Justin Pemberton. You can watch it on Air NZ international flights. Or, actually, probably not).
Piketty recently released a weighty 1000-page follow up Capitalism and Ideology, which I look forward to reading when I have a spare month or two…not an entirely unrealistic prospect given current events…! 😬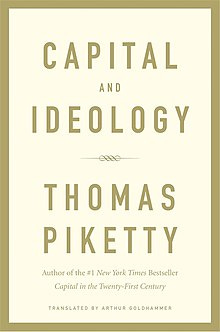 Reading the reviews, in this new book Piketty provides a detailed and lengthy historical analysis of "inequality regimes" in the past millennium, covering economic models including slavery, serfdom, colonialism, communism and most recently hypercapitalism. He proposes that inequality can only be addressed through a new "participatory socialism" with progressive taxation at its heart. (He advocates a 90% inheritance tax).
(Back in November, billionaire fund manager Ray Dalio called the growing US wealth gap a national emergency and urged politicians to take steps to address it or face the prospect of a violent revolution.)
Historically, there is much evidence that periods of high inequality usually end with catastrophe (not a new tax regime):
"Plagues, revolutions, massive wars, collapsed states—these are what reliably reduce economic disparities."
I sense that the current Covid-19 pandemic could well precipitate a reduction in worldwide inequality one way or the other…
(For a counterargument, see here.)
Rollcall
Perhaps unsurprisingly, not a huge amount of tech sector news hit the wires this week as NZ's businesses battened down the hatches.
The Social Investment Agency (SIA) has put together this map of 22 NZ government agencies and NGOs sharing data through the emerging SIA data exchange. Congrats to Jason Gleason and the growing team at Wellington data integration firm Eightwire who recently celebrated their 6th year in business and are closely involved with the data exchange programme. Our public sector urgently needs more joined up data to improve services…go faster folks!
Technology and health researcher Matt Boyd from Adapt Research combines two of his favourite topics 😜 in this new paper aimed at New Zealand policymakers: Catastrophic Risk from Rapid Developments in Artificial Intelligence, co-authored with Otago University's Nick Wilson. Comprehensive if erring towards the theoretical.
(Speaking of catastrophic risks, just to brighten everybody's day further, NASA has warned of two asteroids intersecting Earth's orbit this week. Sleep tight. ☄️)
[Weak] Signals
A few signals from near and far future:
Regular tech tipster Andrew Leckie pointed me to machine learning startup Qeexo. Their new AutoML technology sucks in data from various sensors, synthesises the information in the cloud, and then outputs a ready-made machine learning model able to run on low-end embedded processors on "edge" devices. All with a simple point and click UX. Impressive.

Another cool programmable money use case: Erasure Bay ("Ebay"…geddit?) is a new marketplace for information with a twist: sellers can sell any sort of information they want on it, but Erasure Bay's system has a built in feature called "griefing": buyers can destroy the funds of sellers if they don't like the information they received. Designed to stop fake news, among many other uses.

Given current events, *working from home* will become *working in XR* (Cross Reality) far more quickly I reckon. Check out Alan Smithson's latest podcast with Finnish startup Glue: Meeting in the Flesh in XR. Want one.
Hidden Gems
Feel the urge to go panic-buying novels? You need this: Pandemics: An Essential Reading List
Penguins at the zoo:
The Spice Girls' Wannabe given a vastly improved retro makeover by Postmodern Jukebox. I really, *really*, wanna zigazig-ah.
….and 78 complex new emotions named and described. Whimsical and, occasionally, rather profound.
As always 🙏 to everyone who sent in links and feedback - and since you managed to read all the way to the end, a reminder to please share with a friend somewhere around the 🌎 🌍 🌏. Thank you!
More next time… I'm off to self isolate up a mountain.
Regards / Ngā mihi
Ben