Memia 2020.35: Reconfiguring the state🏢💭📲// open banking💳->open energy🔋// hedging the Keeling Curve📈// computers imagining giraffes🦒
Scrambler suits on.🎭
I'm Ben Reid and welcome to this week's Memia scan across unfolding futures and emerging tech, as viewed from my corner of the world, Aotearoa New Zealand. I hope you enjoy reading it.
The most clicked link in the last issue (~20% of openers) was the hair raising video of the palm tree trimmer, complete with chainsaw.😲
Reconfiguring the state🏢💭📲
Back in Memia 2020.29 I profiled the keynote from the Tony Blair Institute's Chris Yui for a "Radical Progressive" technology-driven policy agenda. The follow up policy paper, Reconfiguring the State for the Internet Era, discusses how new technology changes what's possible for the world's governments:
"Radical models of innovation that disrupt established ways of working are not always comfortable. But long-term stagnation has an unacceptable impact on the state's ability to meet people's needs. The challenge is therefore to expose the key trade-offs and resolve them as best as possible. Three should take priority:

How states can give up control to encourage innovation while protecting quality and in-house capacity

How to reorganise the state around scale economies underpinned by technology while moving delivery closer to people's lives

How to better listen, engage with and adapt to peoples' views without undermining the basic tenets of representative democracy"
Worth reading in full.
In AoNZ, with our small population and unicameral parliament, the opportunity to seize these new tools and fundamentally remake the state machinery feels realistically affordable and within grasping distance - but the counterweight of siloed bureaucratic inertia still looms large. Post-election I guess we'll see if anyone in the Beehive has been quietly thinking about this…
See also:
Open banking💳-> open energy🔋
Huge kudos to UK digital changemaker Gavin Starks and the team at IcebreakerOne for their momentum developing a national UK Open Energy programme based on the same principles as Open Banking, aiming to create data-sharing infrastructure to influence investment decisions of US$3.6T/year to deliver net-zero or net-negative outcomes by 2030:
"We hope to unlock similar value and growth [as Open Banking] by opening up access to energy data across not only the sector itself but by connecting energy data across the rest of the systems that must be decarbonised, including transport, the built environment, water and agriculture."
Hedging the Keeling Curve📈
While IcebreakerOne is largely focused on uncovering near-term incentives for carbon-zero investments…the sceptic in me suspects more muscular market mechanisms, focused on long term climate risk downsides, will be needed to actually drive fundamental investment in CO2 reduction:
Fundamentally, this simple measurement is a very close proxy for macro climate change risk.

Without a hedging mechanism, the micro risks will just get passed on to individuals and businesses:

The cost of insurance against forest fires, sea level rise or storm damage will get higher as ppm rises

Mortgage interest rates will likely go up with ppm, reflecting increased risk of lending

Future and present land values become a complex function of the effects of climate change, but still correlated to ppm.

While there are a number of carbon-based derivatives products out there in the market, they still operate within artificial, imperfect marketplaces:
'Carbon markets are different from other commodity markets in that they are not just influenced by policy decisions but created by them: the value of the underlying commodity depends entirely on policy and politics.'
[I'm sure many minds are already working on this but…] there must be a simple tradeable financial derivative based upon the CO2 ppm index which effectively provides a macro hedge against future climate risk and hence enables a more economically realistic carbon price?

I suspect whoever gets the numbers right now would be very, very wealthy in 50 years' time. (And increasingly long-lived to enjoy it…😉)
[Weak] signals
Each week I pull together tech weak signals from near and far future:
In AI news:
AI Governance in cities moved forward with Amsterdam and Helsinki launching algorithm registries:
Digital currency:
The European Central Bank is joining China in exploring a digital currency, deciding in mid-2021 whether to launch a Digital Euro:
"We need to make sure that our currency is fit for the future. Inaction is not an option."

- Fabio Panetta, ECB Executive Board Member
In the same page, the ECB provides this handy explainer of the difference between digital fiat and pure cryptocurrency (my emphasis):
"Crypto-assets are fundamentally different from central bank money: their prices are volatile because they lack any intrinsic value and there is no reliable institution backing them. People using a digital euro would have the same level of confidence as with cash, since they are both backed by a central bank, which is something crypto-assets such as stablecoins cannot provide."
Uh-huh. Completely different. Yep.🤨
Biometrics:
Amazon unveiled a palm reader for checkout (…and more…?):
Satellite internet:
"It's amazing…Starlink easily doubles the bandwidth [compared to traditional satellite internet]…more than 150% decreases in latency…lower than 30 millisecond latency consistently."
Materials science:
Electric transport:
And electric outboard motor manufacturer Pure Watercraft raised their Series A. Personally I can't wait for quiet boats that don't ruin a peaceful shoreline with engine noise… although there's still a way to go, TechCrunch reports:
"There's still a good amount of sticker shock. A good new [fossil fuel] outboard in the 20-50 HP range runs a few thousand dollars to start, and marine gas costs add up quick; the Pure motor comes in a combo deal with the charger system and one battery pack for $16,500 (additional packs cost about $8,000)."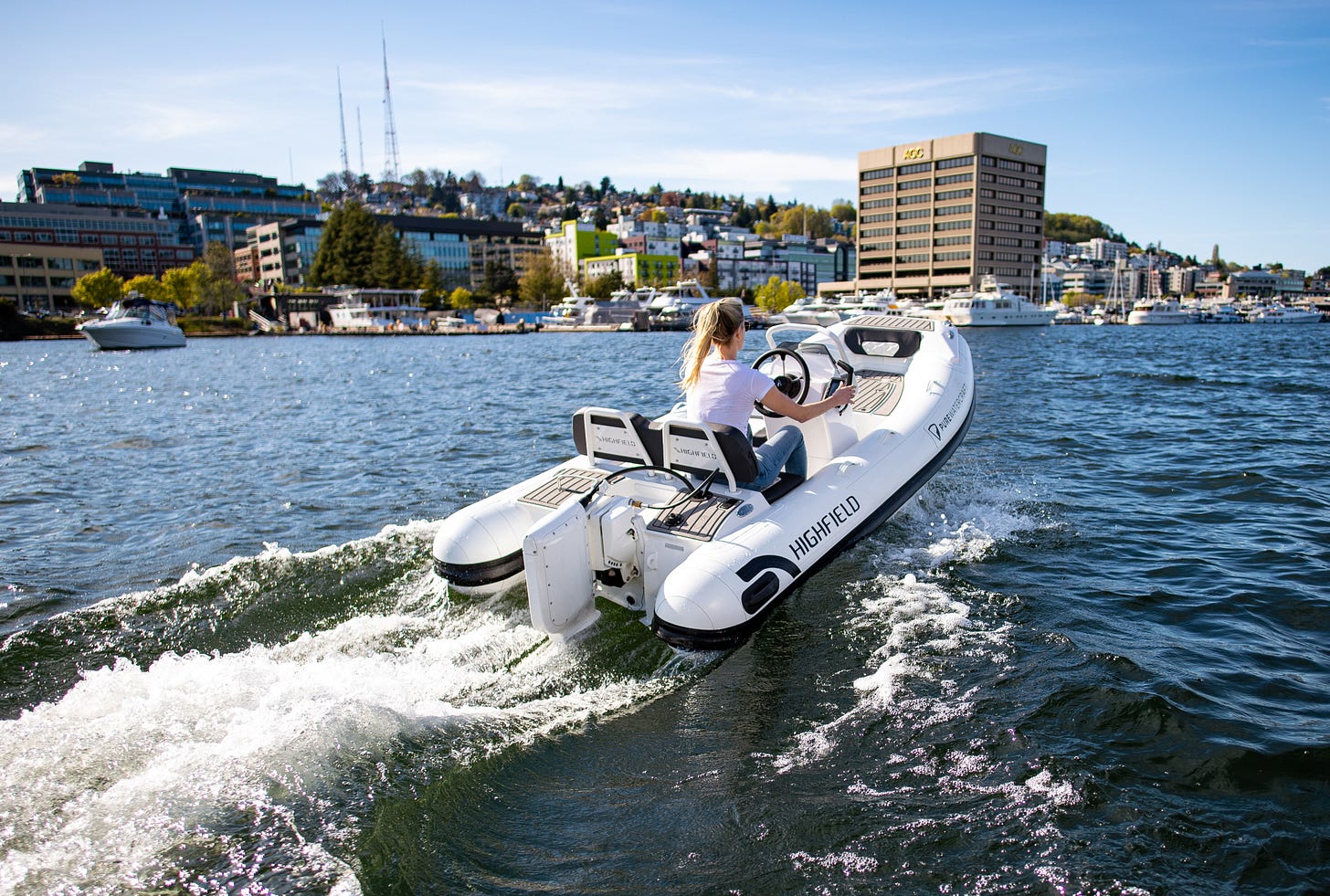 Mind expanding
Reading this week:
Israeli-US investor Alex Lazovsky profiles "thoughtful generalist" philosopher Yuval Noah Harari: A Venture-Capital Perspective On Today's Most Visionary Thinker:

"For all his brilliance, Harari does not see the world through a VC's eyes. For example, he sees a new crisis and existential threat looming around every corner. It's what we in the biz call disruption, and it's the whole point. Harari never saw an opportunity that didn't provoke a crisis. A good investor watches for the opportunity in any emerging crisis."

Wait But Why's Tim Urban explains The Big and the Small, eminently readable as always:
Hidden gems
🎭Last week's newsletter featured a tweet from Kyle Russell:
"We are *this close* to having full-face masks that constantly shift to hide our identities like in A Scanner Darkly"
…*Somehow* I missed Richard Linklater's adaptation of Philip K. Dick novel A Scanner Darkly when it was released in 2006 (likely something to do with 3 children under 6 at the time…), so it was first time on YouTube Movies last week…WOW, what a fantastic film - visually and conceptually unique and darkly funny. I loved the rendering of the anonymising "scrambler suit" which Kyle references:
You may have already seen this spectacular 3D-effect billboard in action in Seoul, South Korea:
And, what a rocket launch looks like from space: mesmerising.
🙏🙏🙏 Thanks to those readers who take time to get in touch with links and feedback, it's always great to hear from you.
Please take a moment to share this email with those in your network who you think might enjoy it. Thank you!
More next week.
Cheers / Ngā mihi
Ben