Post-Covid-19 - some "axes of uncertainty" scenarios for New Zealand Inc.
Searching for opportunities on the other side of the pandemic response
It's now early April 2020 and New Zealand is nearly two weeks into Level 4 lockdown in response to the global Covid-19 pandemic.
Internationally it is now acknowledged that the coronavirus pandemic has created an economic crisis "like no other" — one that is "way worse" than the 2008 global financial crisis, according to the International Monetary Fund. Kristalina Georgieva, managing director of IMF said:
"Never in the history of IMF have we witnessed the world economy come to a standstill."
Large parts of the New Zealand economy have indeed effectively been shut down - or more generously "put into hibernation" - by the massive, unprecedented (that word again) restrictions on movement and commercial activity. Only essential businesses and those who are able to continue operating with staff working from home are permitted to continue trading. Companies operating in sectors such as tourism, air transport, hospitality and overseas education are effectively now without revenue for the foreseeable future and will likely have to close.
Right now, the initial Level 4 lockdown is expected to go on for at least 2 more weeks. But modelling from Te Pūnaha Matatini (TPM) data science researchers, Suppression and mitigation strategies for control of COVID-19 in New Zealand, illustrates the following two mitigation scenarios where "high control" (=lockdown) continues intermittently either for 6 months until the virus races uncontrolled through the population, or for 2+ years until "herd immunity" is reached, assuming there is no vaccine available before then.

Meanwhile, there are voices raising questions about how sustainable the government's "go hard and go early" approach to suppressing - or indeed eliminating - the virus in Aotearoa can be, together with questions surrounding the balancing of broader concerns - for example intergenerational equity, economic wellbeing, other health conditions and mental health of those affected by the longer term consequences of total economic wipeout.
There is huge uncertainty - perhaps more than at any time in New Zealand history. So in among this dense fog of unknowability, is it even possible to look out and model what Post-Covid-19 New Zealand might look like in a way that can help businesses adapt, survive and, ultimately, thrive?
Near-term scenario modeling
Coronavirus is the threat no-one saw coming:
"In their scenario planning, if they do scenario planning, I would doubt [businesses] would think about the world being shut down, borders being closed, everyone being in their houses"

- Wendy Kerr, Director, Auckland University's Centre for Innovation and Entrepreneurship.
Here we are now, two weeks in and still at the very beginning of the pandemic response. Can we start constructing some scenarios to help with planning from here?
I have taken a first cut at exploring some of the main areas of uncertainty for the New Zealand context and ended up categorising them into "When", "How much" and "Yes/no" questions, together with some initial stabs in the dark about high and low boundaries: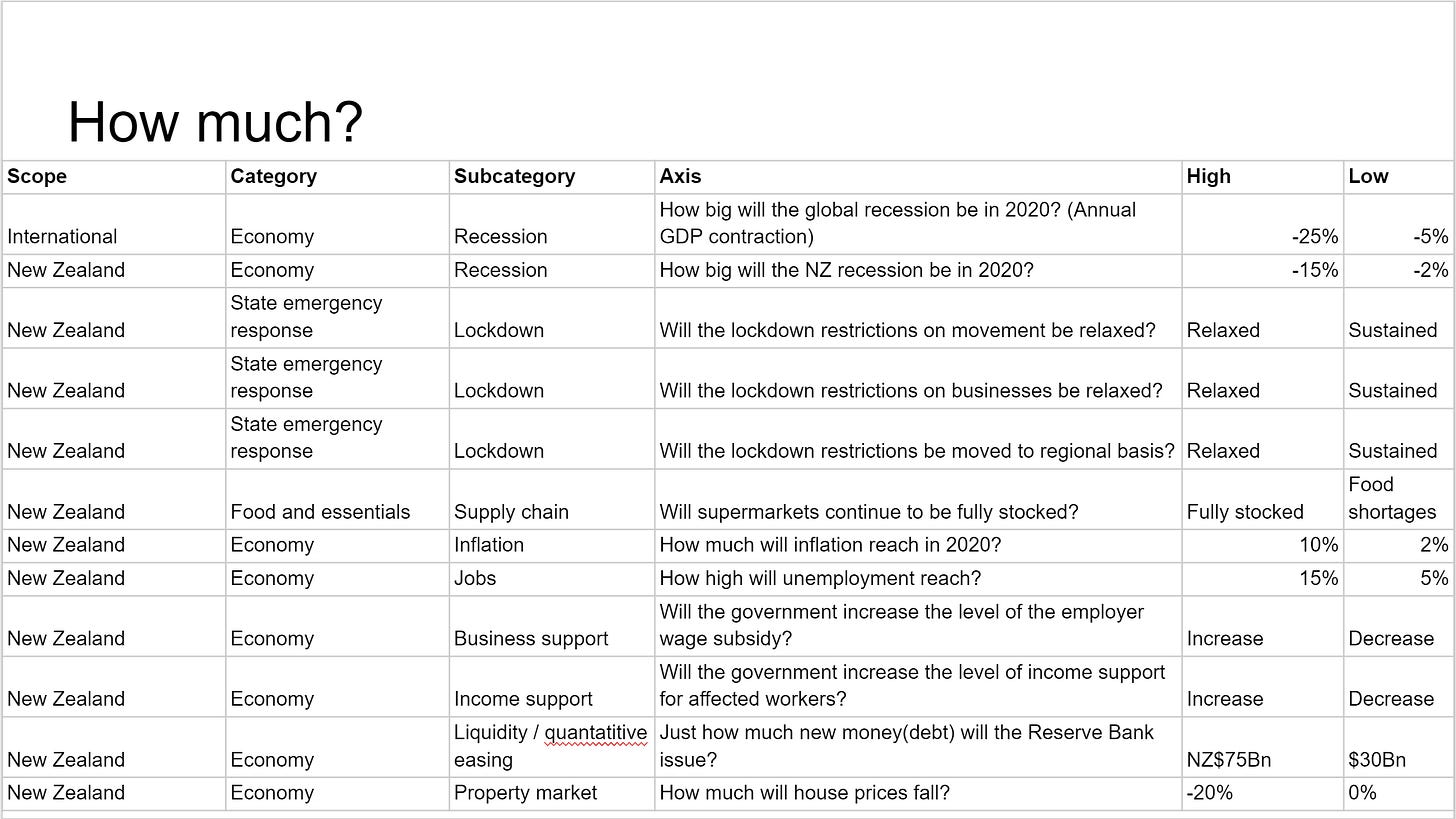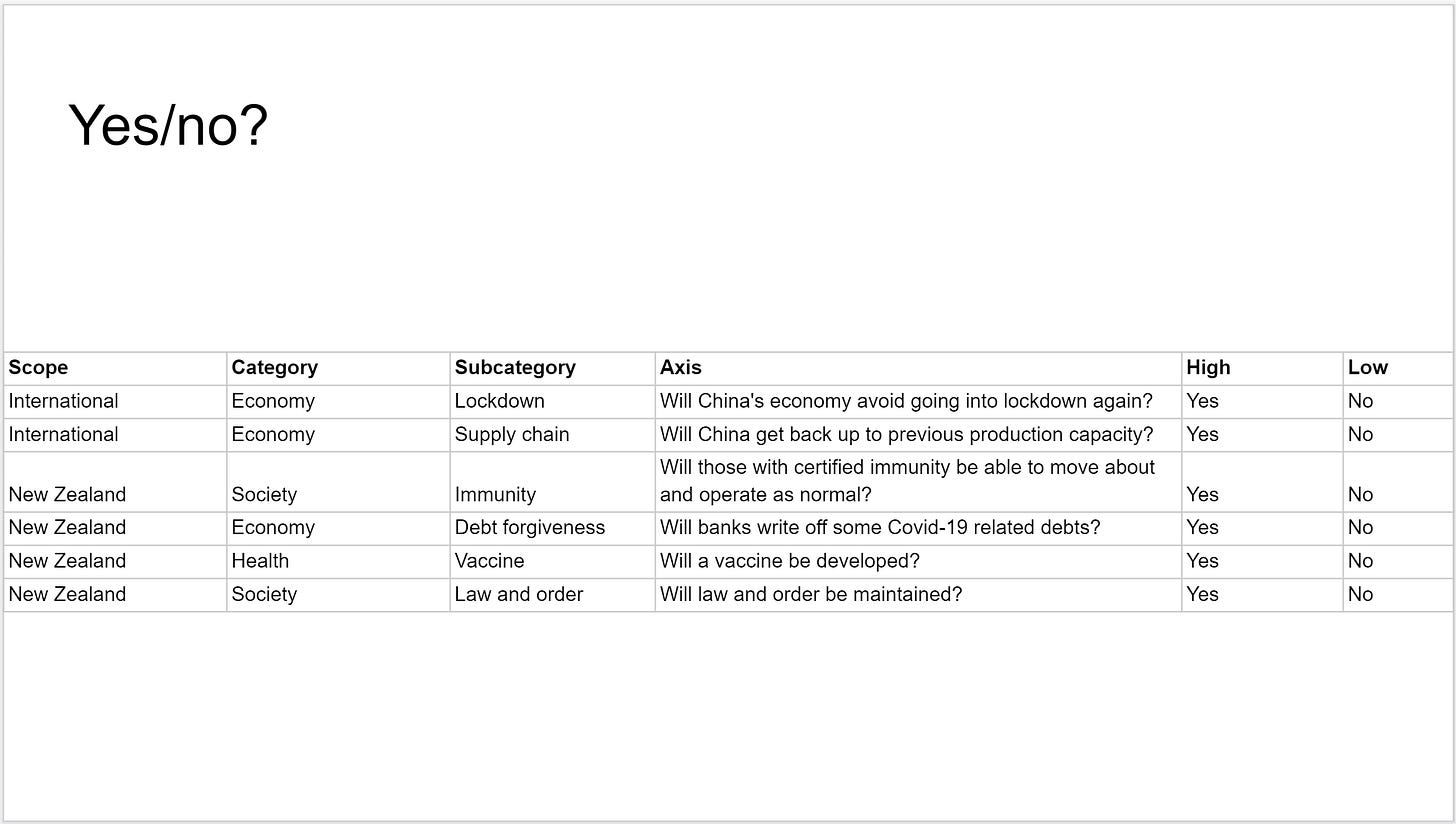 By no means exhaustive, but you get the drift. From these (quite specific) questions, it's possible to choose a selection and sketch out some near-term scenarios that might form a backdrop to business planning - for example, two extremes: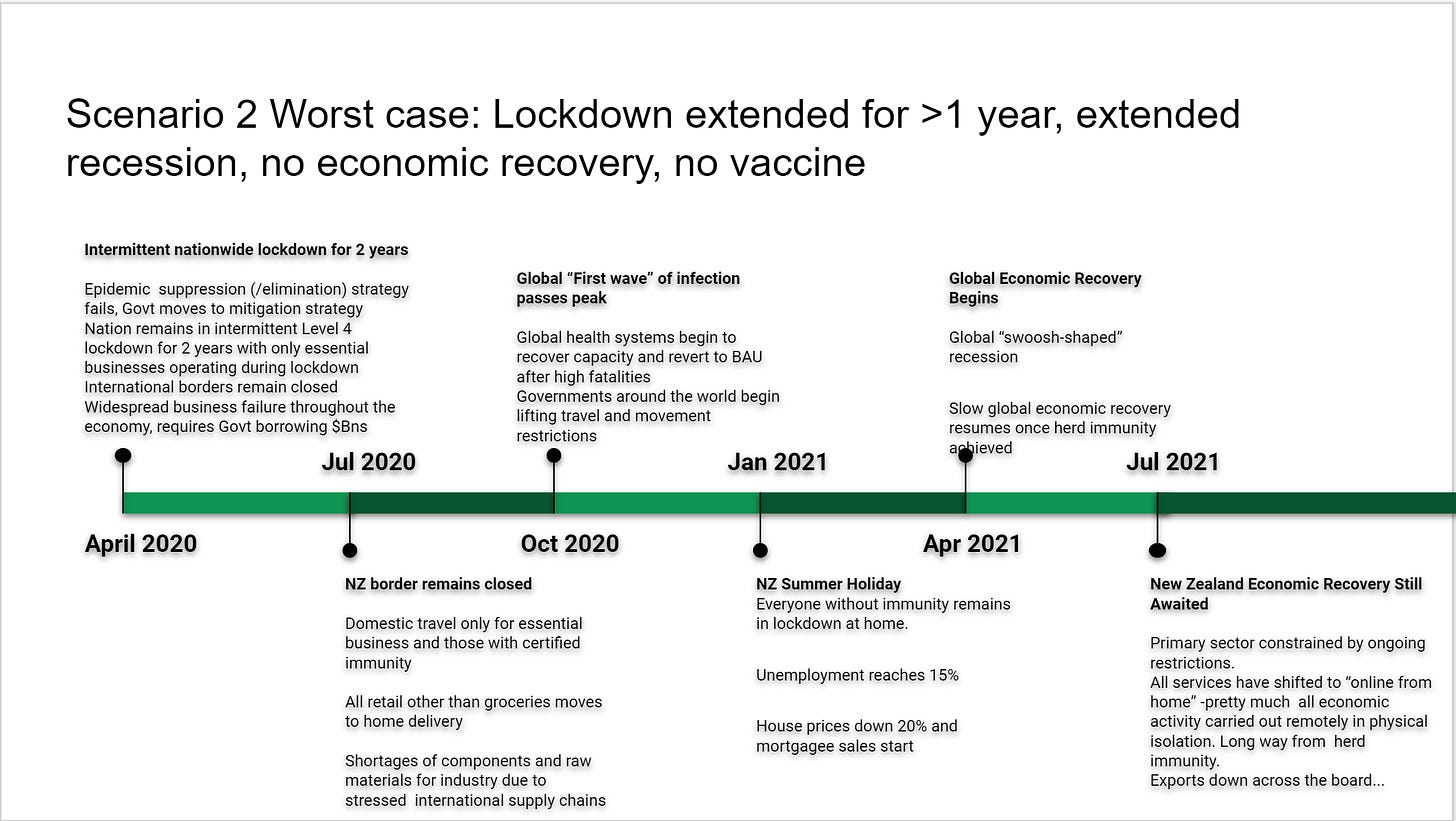 However, being honest, there's not a lot of opportunity apparent in any of these near-term scenarios - basically it's going to be a grim game of cost-shedding and survival for most existing businesses during the lockdown and subsequent recession. And high levels of unemployment - how high depends on how rapidly the government mobilises its stimulus spending.
Axes of uncertainty
Quantitative Futurist Amy Webb of the Future Today Institute uses a technique called Axes of Uncertainty to explore potential longer term scenarios more broadly and use these to ensure more preparedness for the future. Axes can be External or Internal to an organisation. External Uncertainties can be broken into four categories: Economic, Social, Technological and Regulatory/Politics/Activism: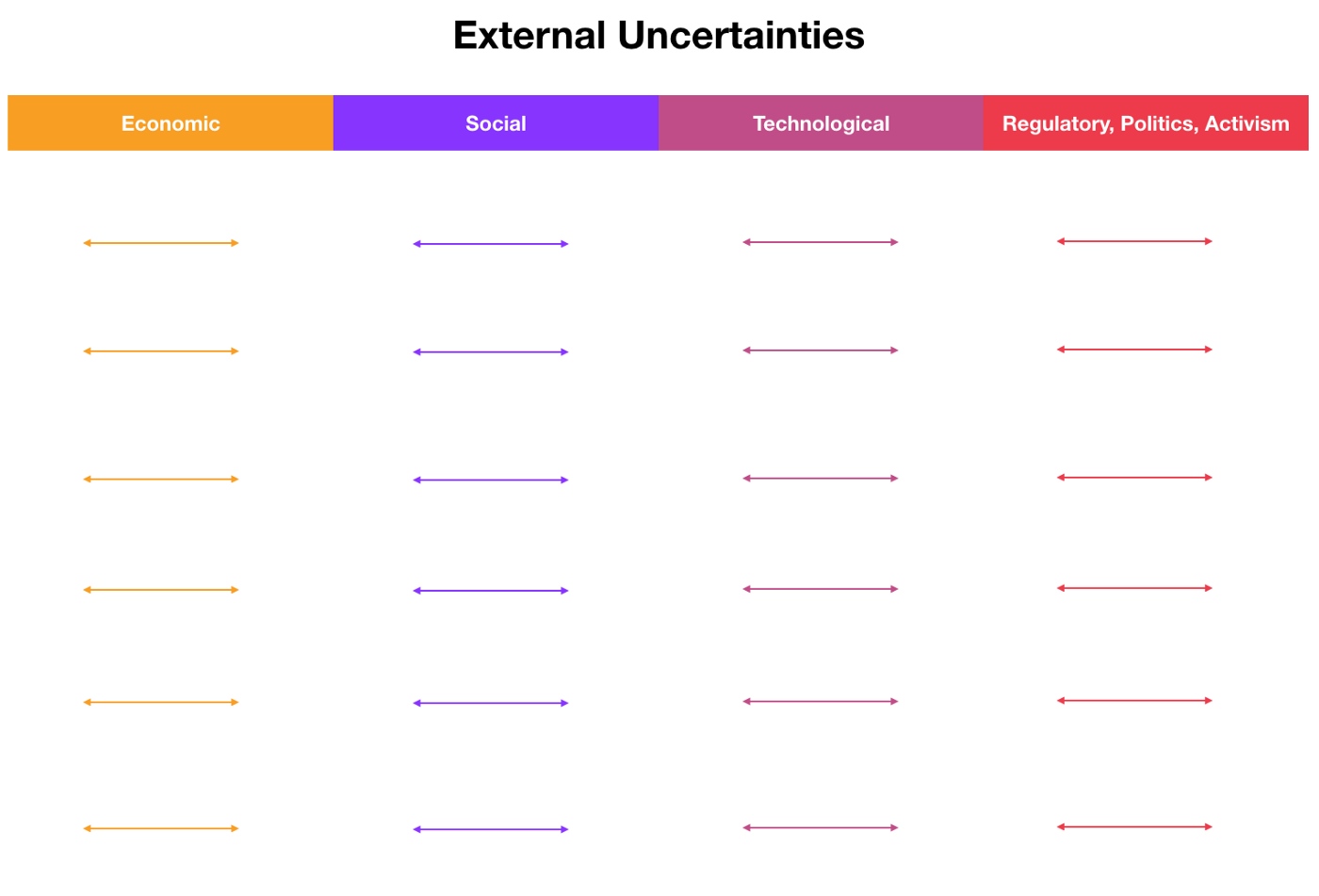 Here are a few interesting (to me) New Zealand-relevant axes to consider, there are many others - feel free to suggest some more.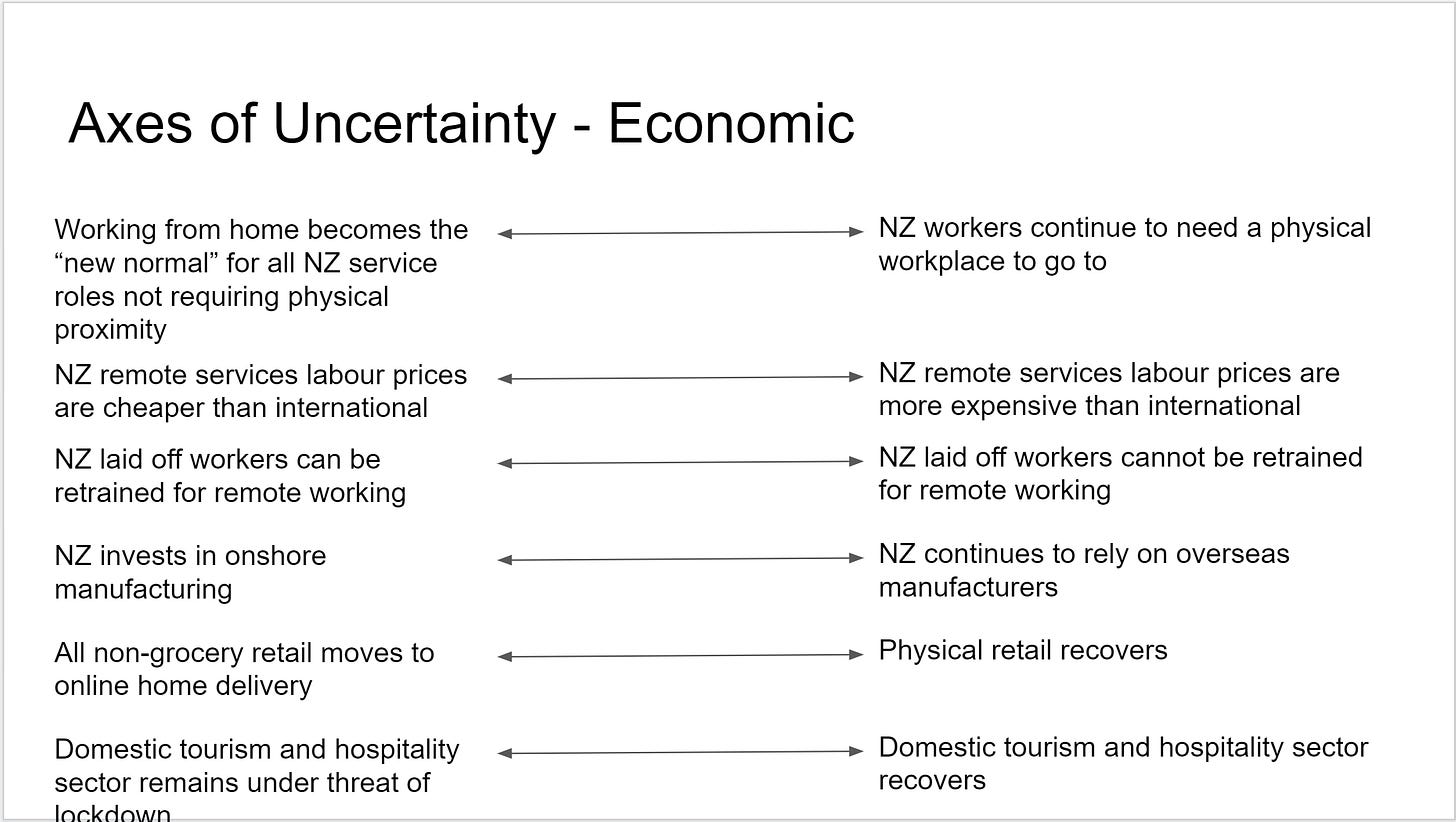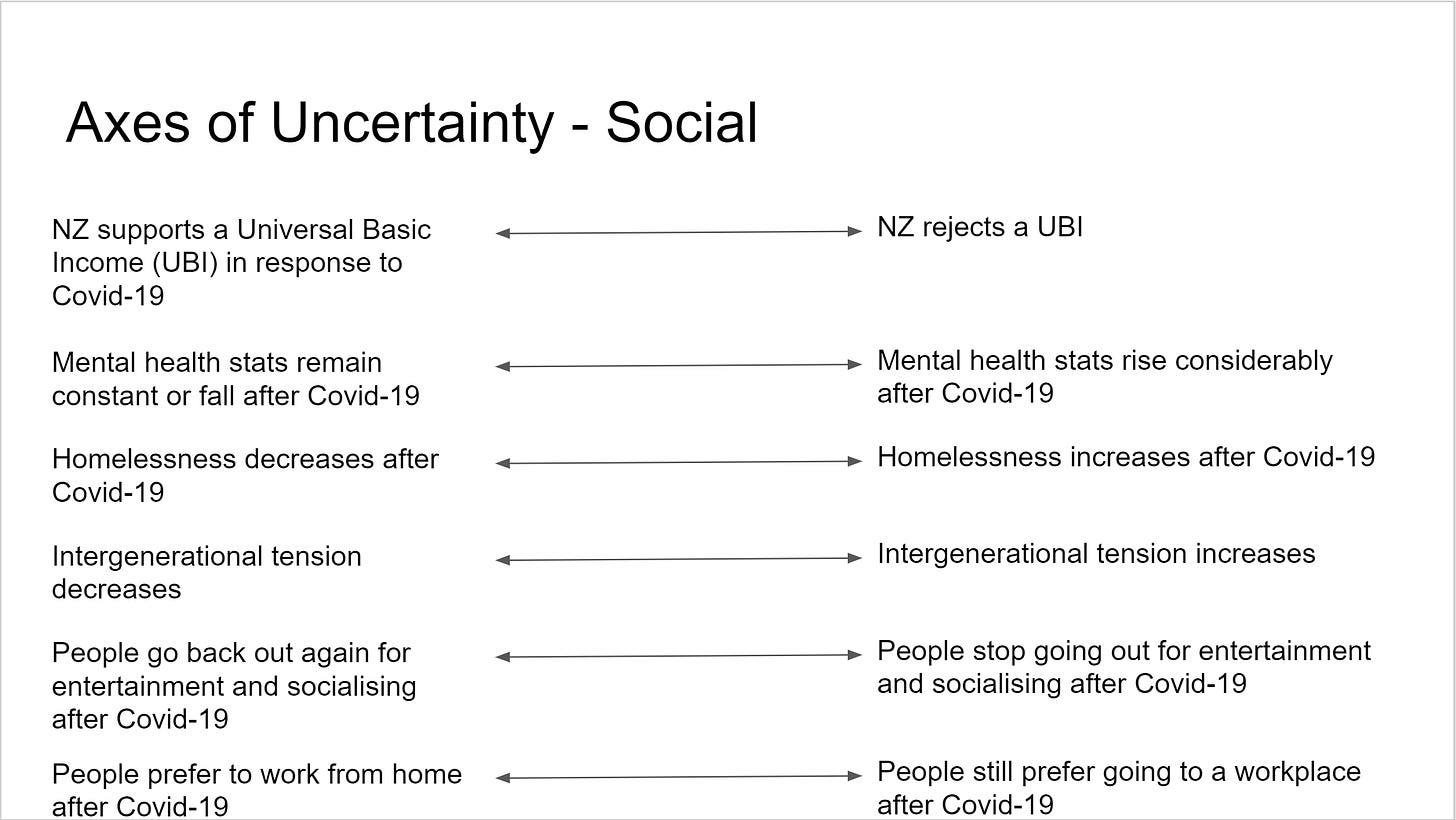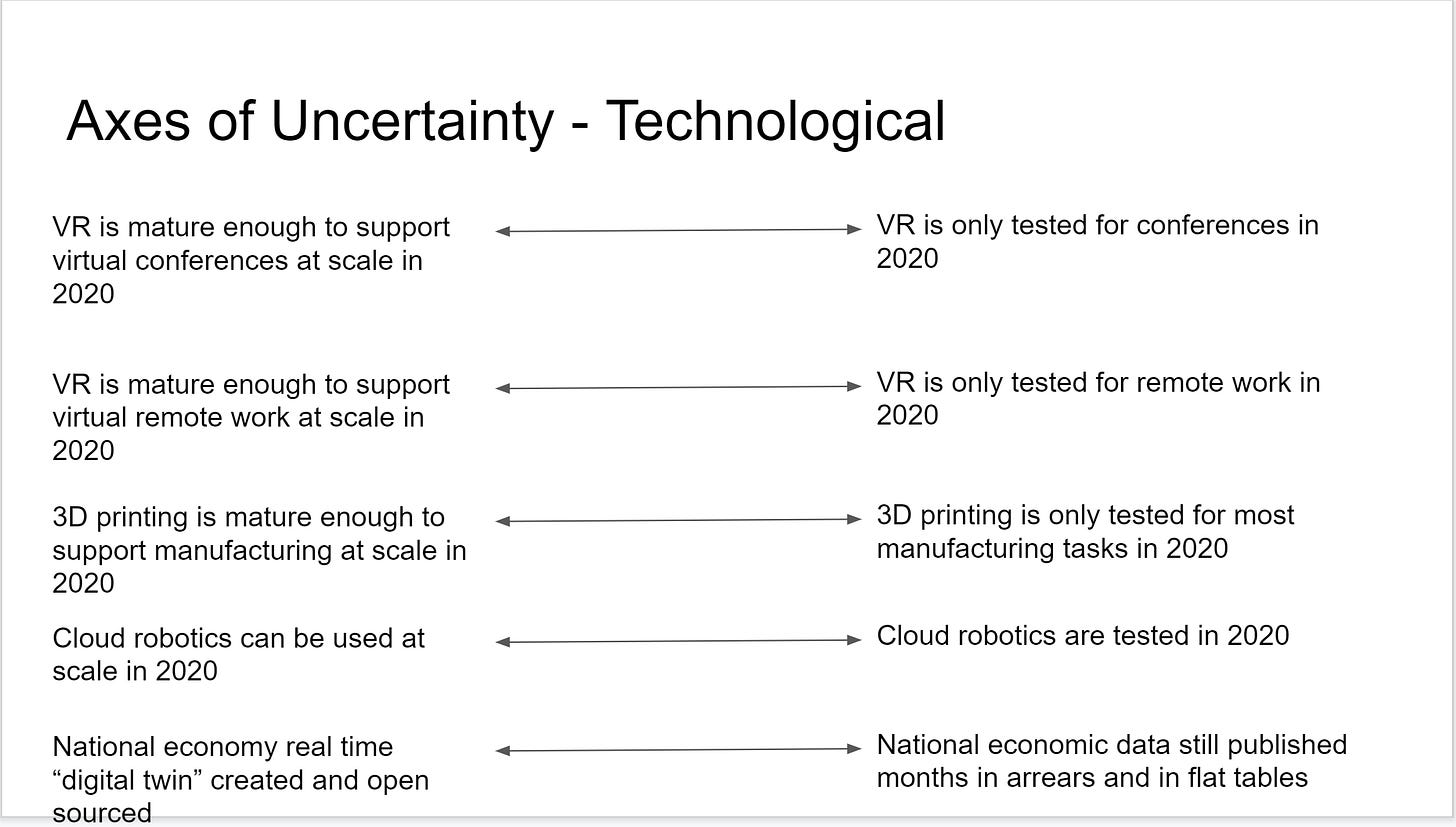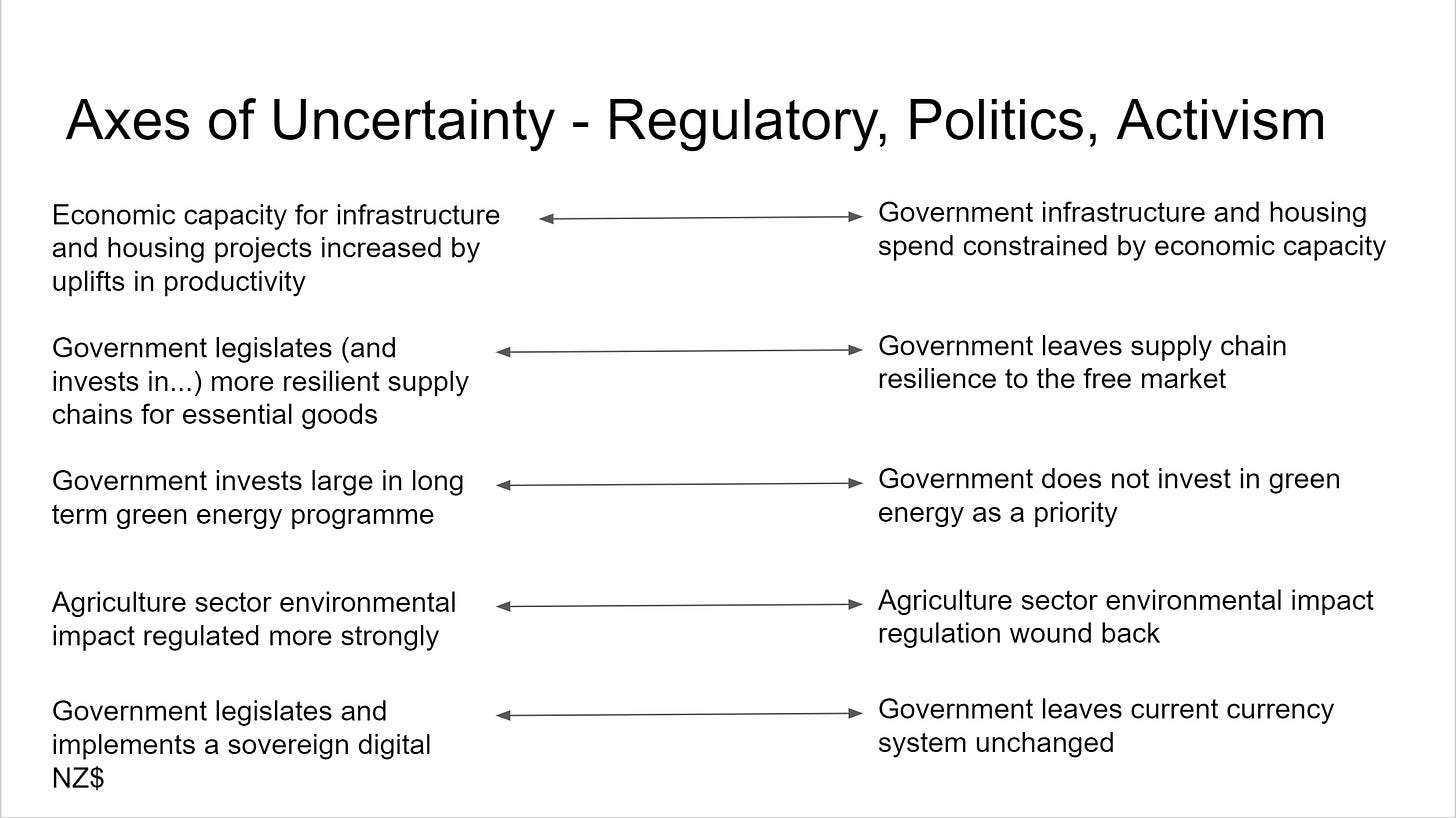 From my technologically-inquisitive perspective, there may be some areas for NZ businesses to investigate here. Firstly, for background, looking at our supply chains for import, here are some very enlightening visualisations from the excellent Observatory of Economic Complexity at MIT Media Lab: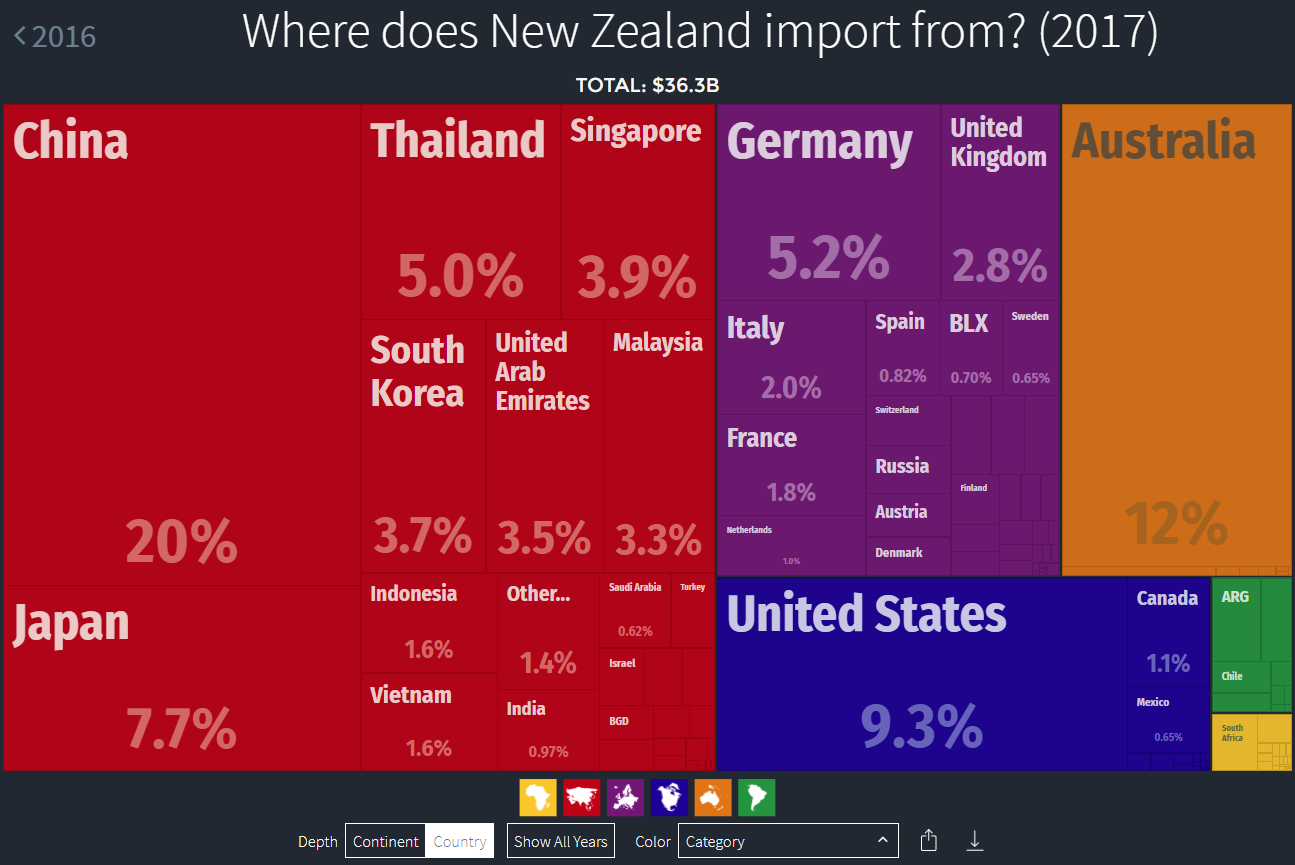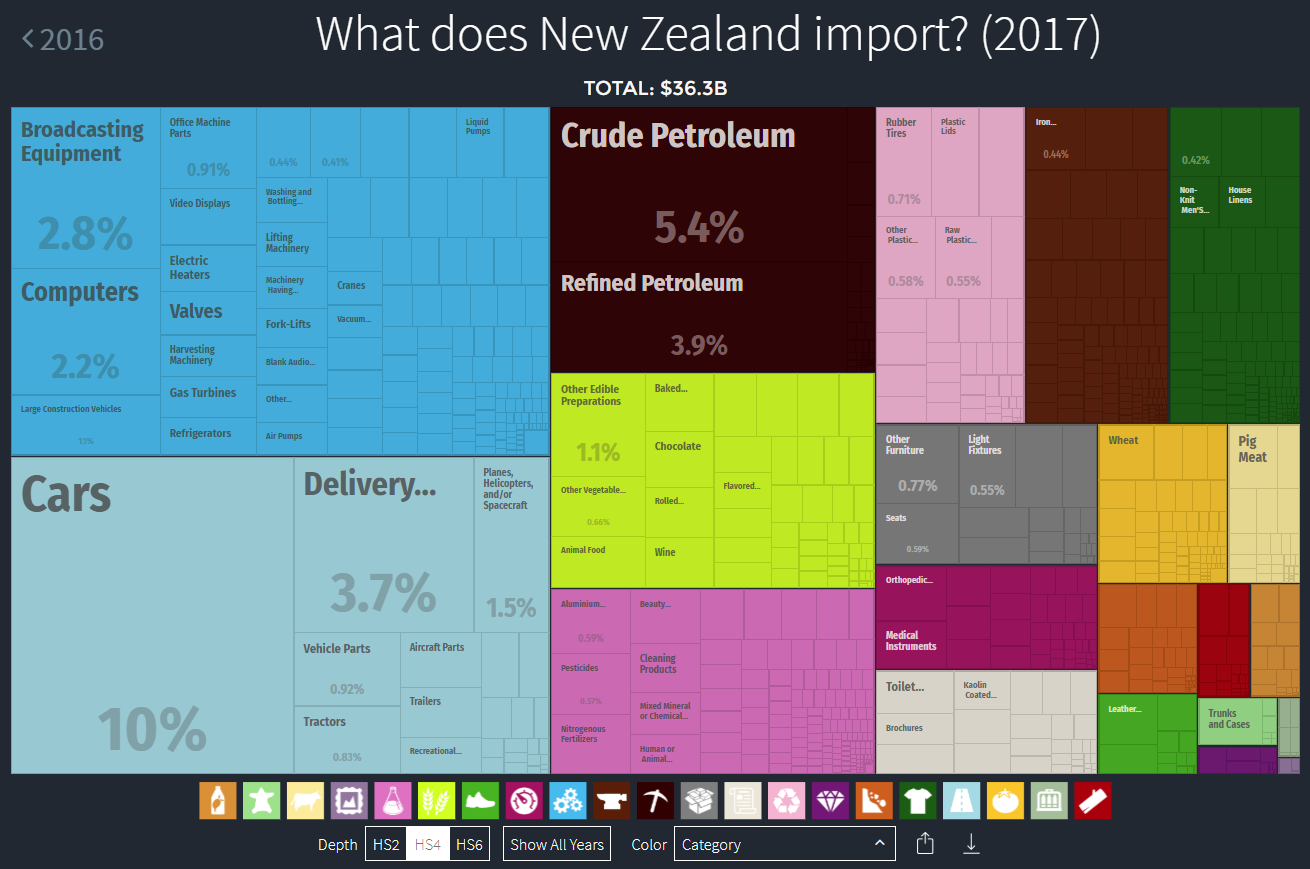 (What is "Broadcasting Equipment", anyone ???)
Below are just four scenario maps I've worked up using Amy Webb's technique, with "Opportunity" and "Risk" seen from the (admittedly rather lofty and subjective) perspective of "NZ Inc". Some nuggets of opportunity starting to appear.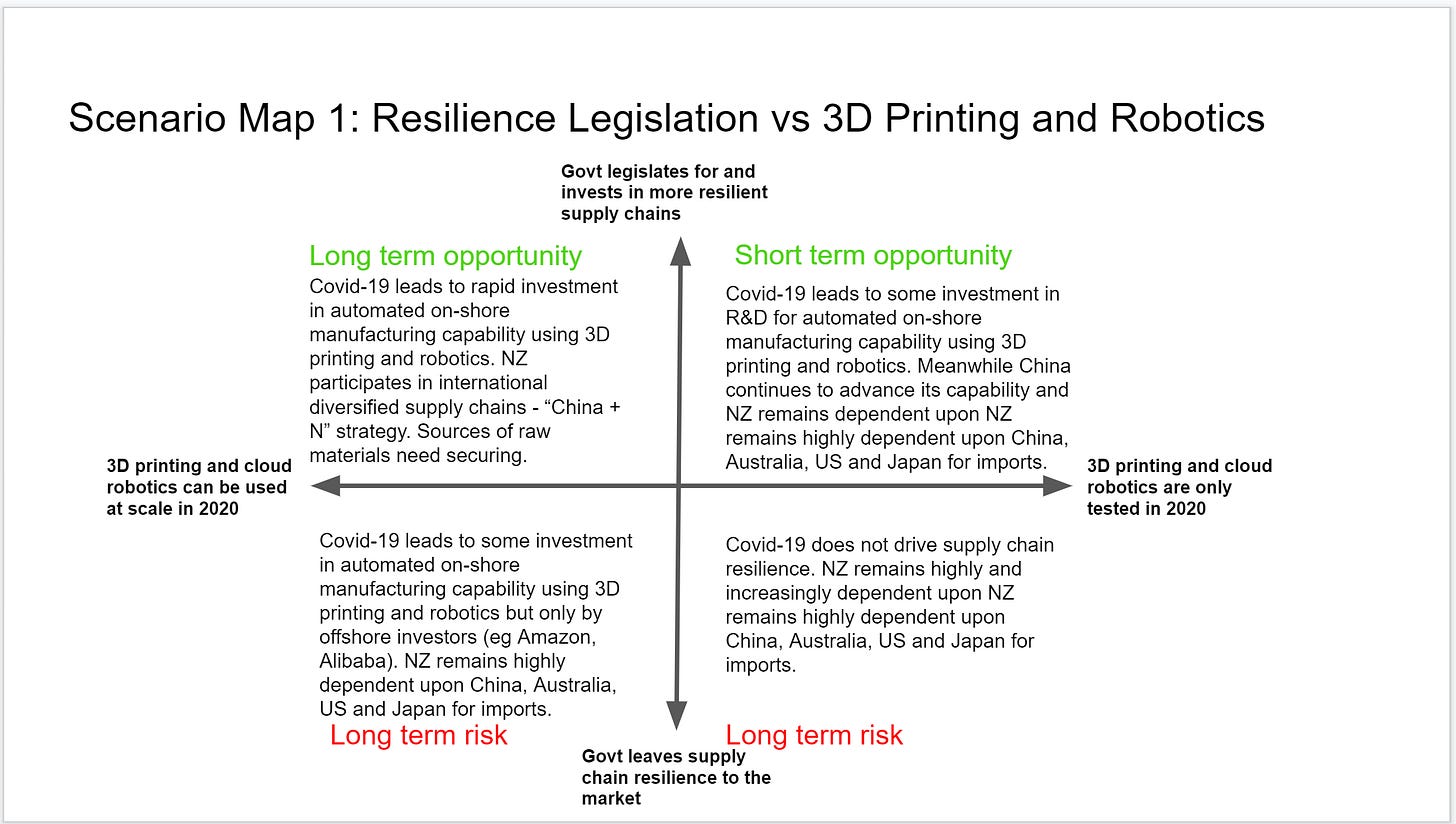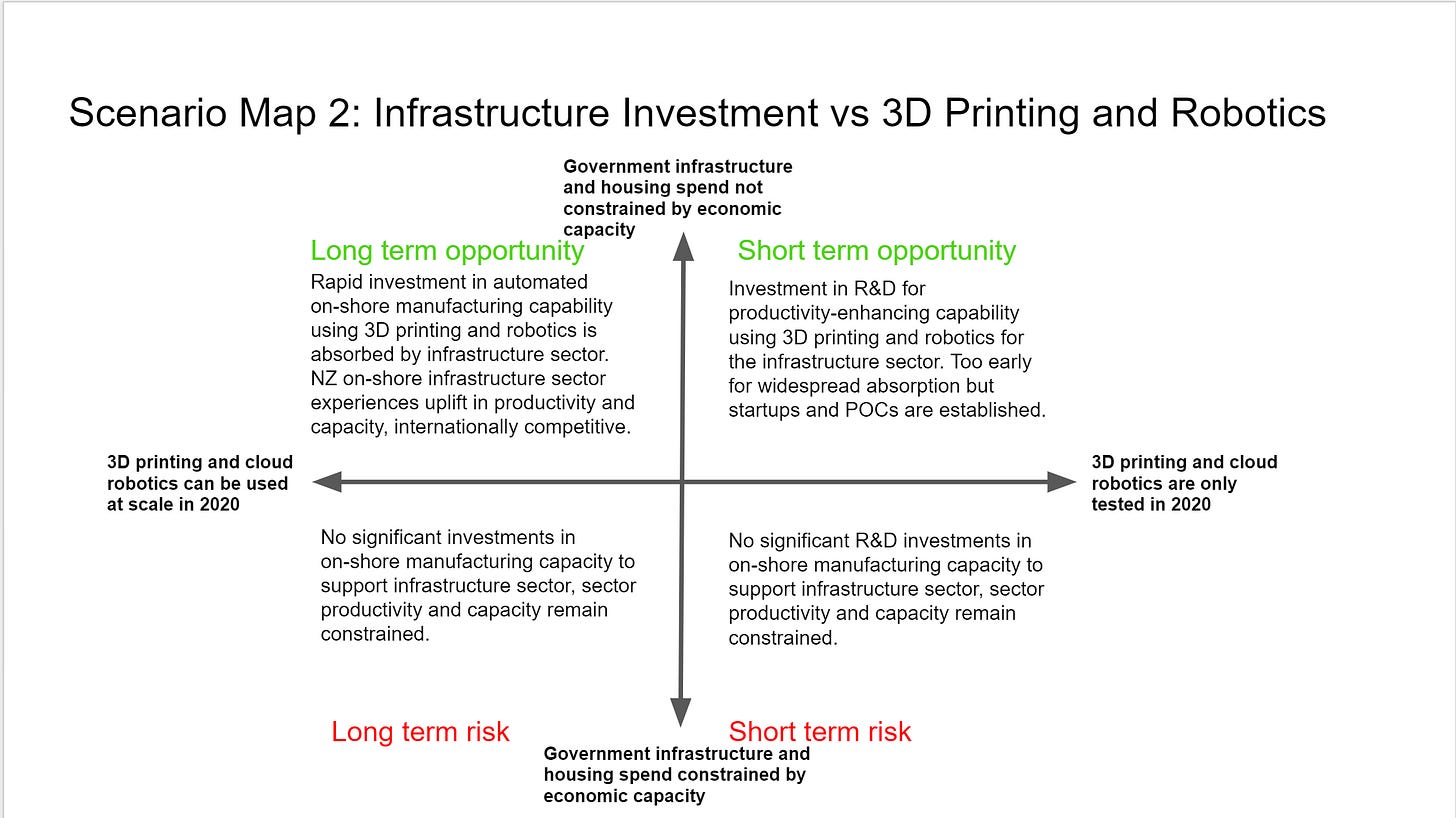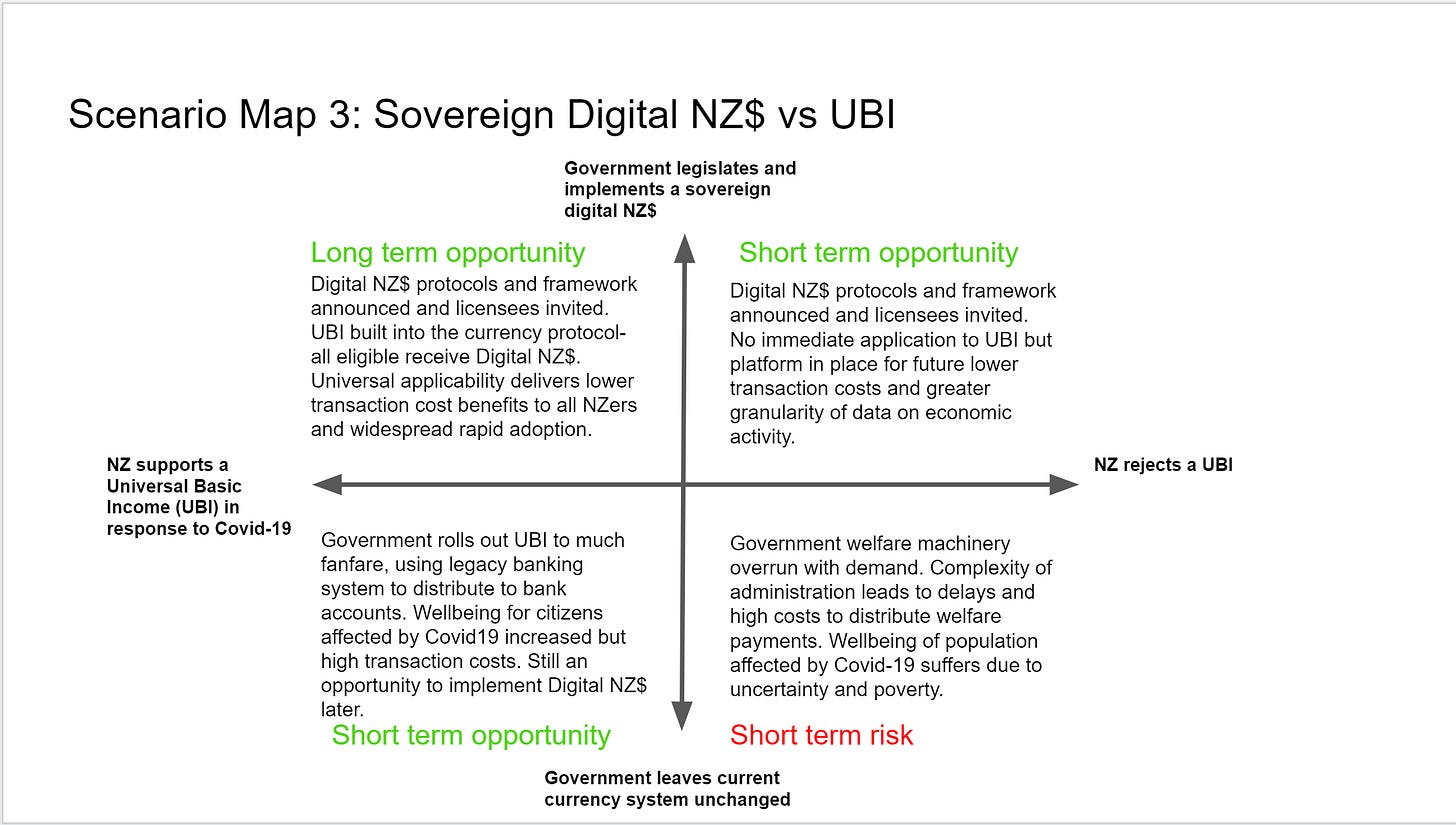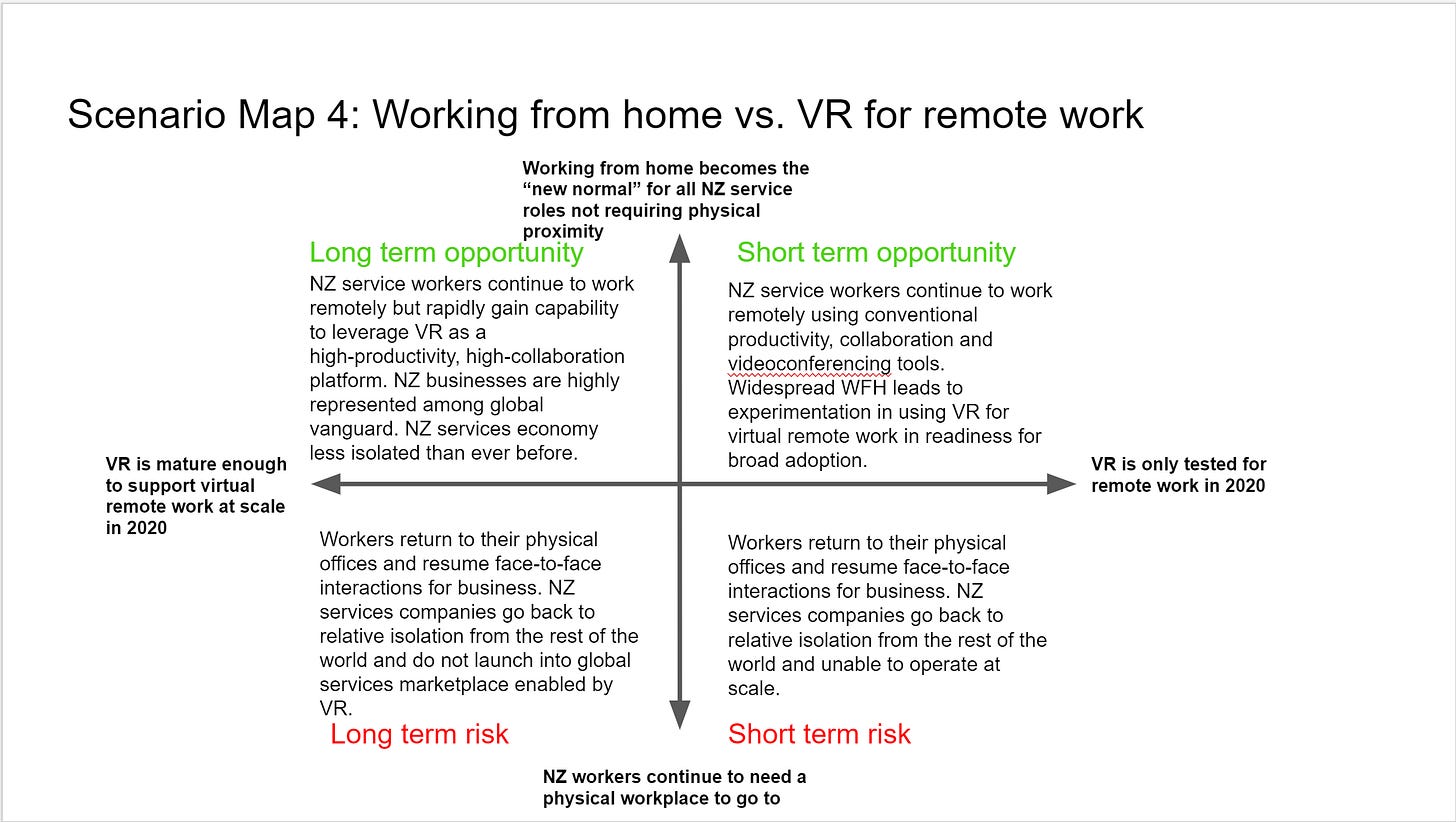 (FWIW you can substitute "NZ" for pretty much any small economy that needs to trade outside its borders for any of these.)
Next steps?
Other than being an interesting diversion for a Sunday afternoon in Lockdown 😇, what else is this analysis useful for? The suggested final step in this process is: Find your action. Each of the scenarios above might apply to you or your organisation in varying ways, or not at all. Try using the technique yourself within your organisational context and see whether you come up with any previously unseen opportunities that could make the difference between surviving Covid-19 - and thriving afterwards.
Comments, feedback? Get in touch: ben.reid@memia.com